On some days, it's pretty easy to think up a gift idea for our loved ones. But on other days, one could go hours and hours without any luck.
Whenever you get stuck trying to think up a gift idea, working around something the giftee loves could be a quick fix.
Now, say you want to offer a gift to an avocado lover, what are your options?
Well, if you've got none, we've got your back. Check out these 31 awesome gift ideas for an avocado lover. You should find something you consider worthy of gifting.
Avocado Coin Purse Pouch
If one does not spot the zipper on this pouch, one would think it's a real avocado. The Avocado Coin Purse Pouch is an amusing way to carry coin and cash. It is sure to get any who sees it wondering. If not used as a purse or pouch, this item fits well as home décor.
You do not have to worry about the age of the receiver when buying this as a gift. It is suitable for all ages and genders. Plus, you do not have to worry about the environment—the pouch is made from silicone.
Avocado Peeler 3 in 1 Cutter
What's a better gift for an avocado lover than something to make eating avocados easier?
The Avocado Peeler 3 in 1 makes eating avocados more enjoyable. It was crafted for cutting, peeling, pitting, and slicing avocados, and it does these things safely and efficiently.
Other pros of buying this as a gift include easy cleaning, portability, and versatility. The Avocado Peeler 3 in 1 can be cleaned in a dishwasher; it is portable and can be used on many other fruits.
Avocado-Shaped Crossbody Shoulder Bag
If your giftee would be amused by a cute avocado bag on their shoulder, then this is a great gift idea. This little smiling avocado bag hangs across the body from the shoulder comfortably.
It is thick but small. So do not expect it to hold too many items. It should easily hold a cellphone, some cards, and some cash.
BioSwiss Novelty Bandages Self-Adhesive Funny First Aid
No one wants to get injured, and we are fairly sure you do not want to see your loved ones get hurt. But these things happen. People get cuts and bruises every now and then.
But you might just be able to put some fun into people's discomfort with this avocado-themed bandage.
The BioSwiss Novelty Avocado Bandage comes with 24 pieces of avocado bandages in each pack. The bandages are flexible, breathable, and last long. While you can gift them to adults and kids, these bandages may be more suited for kids.
Avocado Hugger
When avocados turn ripe, it does not take long before they go bad. So, preservation is a big deal with avocado lovers.
Get an avocado lover something that helps with preserving their avocado and they will thank you!
The Avocado Hugger fits around whole or half avocados and seals them in so they can be stored. It serves as a tailor-made sealant for avocados: an alternative to plastic wraps, Ziploc bags, wax paper, and food storage containers.
The Avocado Hugger is made of silicone, so it is quite flexible and can fit small and large avocados. One great thing about the Avocado Hugger is that it saves space compared to its alternatives.
Prepworks by Progressive Avocado Keeper
The Avocado Keeper is an alternative to the Avocado Hugger (the product above). This product also helps with preserving avocados.
Once cut, avocados can be stored in the Avocado Keeper face down before being stored in the fridge. The pack is stackable, and it comes with a transparent snap-on lid. So the avocado won't spill out of the container, and one can monitor it without opening the pack. The Avocado Keeper is also easy to clean and can be washed in a dishwasher.
Zmart Men Funny Socks
Another cool avocado gift idea is a pair of socks with avocado print. Whoever receives this gift would have avocados in their heart and on their feet – what better way to show that one loves avocados?
The Zmart Men Avocado Socks are suitable for size 8-14. While they were crafted for men, pretty much anyone within the size range can use them.
These socks are made from 80% cotton, 3% spandex, and 17% polyamide. This combination offers comfort, breathability, moisture-wicking ability, and softness.
The socks are perfect for various types of styles. Casual or formal, you're good to go. They are machine-washable, or they can be washed by hand, too.
Avocado Stickers (Dover Little Activity Books Stickers)
Do you have a little avocado lover in the family? Then these avocado stickers should be a joy for them. The pack contains 24 avocado stickers with some catchy puns.
AvoSeedo Avocado Tree Growing Kit
You could also foster the love of an avocado lover by getting them a growing kit. With a kit like the AvoSeedo Avocado Tree Growing Kit, you would not have to hang your avocado pit over water with toothpicks.
All you need to do is place the avocado pit in the AvoSeedo before placing the AvoSeedo on water.
The AvoSeedo Avocado Tree Growing Kit comes in 4 colors: blue, green, pink, and transparent. You can choose the recipient's favorite color! It is durable, so you can expect them to have it for quite a while.
AvoSeedo Bowl Set
This bowl set comes with the AvoSeedo Avocado Tree Growing Kit (the preceding product) and a bowl.
To use the AvoSeedo Bowl Set, fill the bowl with water, then place the Growing Kit on the water in the bowl. After this, place the avocado pit in the Growing Kit while it sits on the water.
This avocado growing bowl set comes in 4 color combinations. There is white & green, transparent & green, green & green, and transparent & transparent. It is quite durable and poised to last for years.
Squishable / Mini Comfort Avocado Plush
You could get your giftee this cute avocado plush. The Squishable Avocado Plush is one avocado that will never go brown or bad on them.
It is lightweight and made from polyester fiber. The plush measures around 7 inches and is suitable for ages 3 and above.
Avocado Wooden Keepsake Display Case
This display case comes with a print containing a witty avocado pun. The pun says, "You guac my world." It might seem corny, but they are sure to smile.
This product is made with MDF wood and reinforced glass, making it quite durable. The recipient can use it as a shadow box for different items, including coins and other memorabilia.
The Avocado Wooden Keepsake Display Case can be hung on the wall or placed on a table. It is fitting for the bedroom and even the living room.
Avocado Shaped Warm LEDs
Get this gift to literally light up the world of your loved ones. This string of 36 avocado-shaped LED lights can be used indoors: in the kitchen, bedroom, enclosed deck, or the patio for parties, and pretty much anywhere else indoors.
This item is portable and lightweight. It runs on 3 AA batteries and spans 12 feet. The Avocado Shaped Warm LEDs may also be used as décor around plants, mirrors, furniture, and similar items.
An Avocado a Day – A 70-recipe book
Help the avocado lover do more with avocados. This book contains 70 recipes that are healthy yet tasty. The recipes in it cover various meals from breakfast to dessert.
Some recipes included in the book include Avocado Waffles, Avocado Green Curry Noodles, Thai Stuffed Avocado, and Avocado Key Lime Pie.
Ridley AGME001 Avocado Smash
Another fun item you could give an avocado lover is this avocado-themed card game. The Avocado Smash is a 70-card avocado game that comes in an avocado-shaped container. It has an average playtime of 10 minutes and is suitable for people age 6 years and above.
The Avocado Smash card game can be played by at least 2 people. This makes it perfect for family game nights and social gatherings.
Evriholder Avo Saver
Like a few other gift ideas on this list, the Evriholder Avo Saver helps keep out air from cut avocados. More than that, this product is a great way to carry leftover avocados around.
Evriholder Avo Saver is made from BPA-free plastic, eliminating the worries about the adverse effects of BPA. It can be washed in the top rack of a dishwasher.
The Avocado Cookbook
Here is another book to help an avocado lover maximize their use of their favorite ingredient. This cookbook contains more than 50 avocado recipes. Each recipe comes with details such as serving size, prep time, cooking time, and alternative cooking methods.
XiErSi Funny Thermos Cup
This thermos cup comes with a smiling avocado printed in it. Above and below the avocado is written, "I know I'm extra."
This thermos cup makes for a means of storing hot or cold liquids. It has a 14-oz capacity, and it is leak proof.
For at least 12 hours, you can count on this item to preserve the liquid in it at around the same temperature.
You've Guac to Be Joking: I Love Avocados!
If you need a gift for someone who loves puns and similar witty materials, this might just be perfect. This book contains 120 avocado puns and smash-ups alongside illustrations. It comes with 128 pages, and the content is family friendly.
BlenderBottle Just for Fun
This gift can come in handy for a gym-goer. It is a 20-oz bottle that can hold smoothies, protein shakes, and much more. It is leakproof and can be used as a bottle, a cup, or a mixer.
The bottle comes with an exercising avocado printed on the side. For some humor, the exercising avocado is captioned – Avo Cardio. The bottle is dishwasher safe, phthalate-free, BPA-free, ergonomic flip cap, and it comes with a screw-on lid for safety.
Avocado Kawaii – I am pregnant – Avocado Crochet Decoration
Ladies! Here's a hilarious way to announce your pregnancy to your partner. The crochet is crafted as 2 halves of an avocado and a pit. Just slip your special note under the avocado pit and let them find the good news out.
Besides being a great way to break the news of your pregnancy, this item can also serve as a toy for babies. It is made from hypoallergenic polyester and cotton yarn, and you can choose to have a bow on it or not. The bow is available in 8 colors.
Mikarya Avocado Necklace
This avocado necklace with a heart-shaped pit would be a fitting gift for your cherished person who loves avocado.
The necklace comes with an avocado pendant and a letter-charm pendant. You choose to have any letter from A to Z on the letter charm. Alternatively, you can choose to have nothing inscribed on it.
Kawaii Avocado 12 Colors in 1 Chunky Ballpoint Pen
If the avocado lover does visual art, then get this fancy pen with an avocado top. The pen comes with 12 different ink colors and a random design.
You could also get this pen as a gift for the giftee's school supply.
Avocado Wood / Novelty Mini Stud Earrings
Two smiling wooden-avocado stud earrings for the avocado lover? Yes, please. These earrings are handmade from wood and hand painted too.
Of course, being studs, they are pretty tiny. Each one measures approximately 0.5 inches in length and 0.4 inches in width.
10 Life Rules For An Avocado Lover Funny Wall Poster Typography Print
This funny typography print is another gift that will amuse your avocado-loving person. As the name says, this poster contains 10 avocado life-rule puns and wordplays.
It makes for an attractive poster in various parts of the home: the kitchen wall, bedroom, living room, and virtually anywhere. This product is available in 3 sizes: A2, A3, and A4.
Miniature Realistic Vegetable Avocado Earrings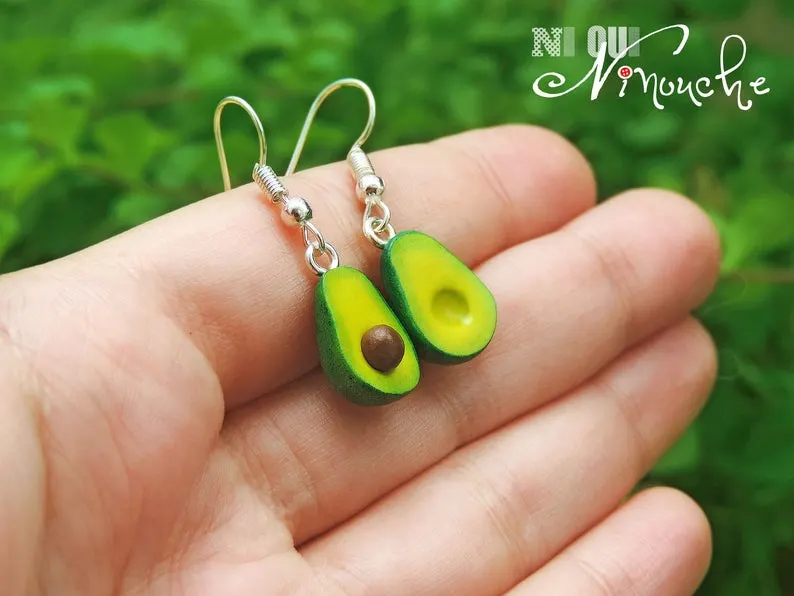 If you would prefer to get a pair of dangle earrings for your loved one instead of studs, this is a cool option.
These handmade avocado earrings look very realistic. If they were not so small, one would think they were real avocados!
The avocado pendants are made from polymer paste and the hook from anti-allergenic silver ear wire. They are also water-resistant and can withstand shock.
Avocado Quote Wish Bracelet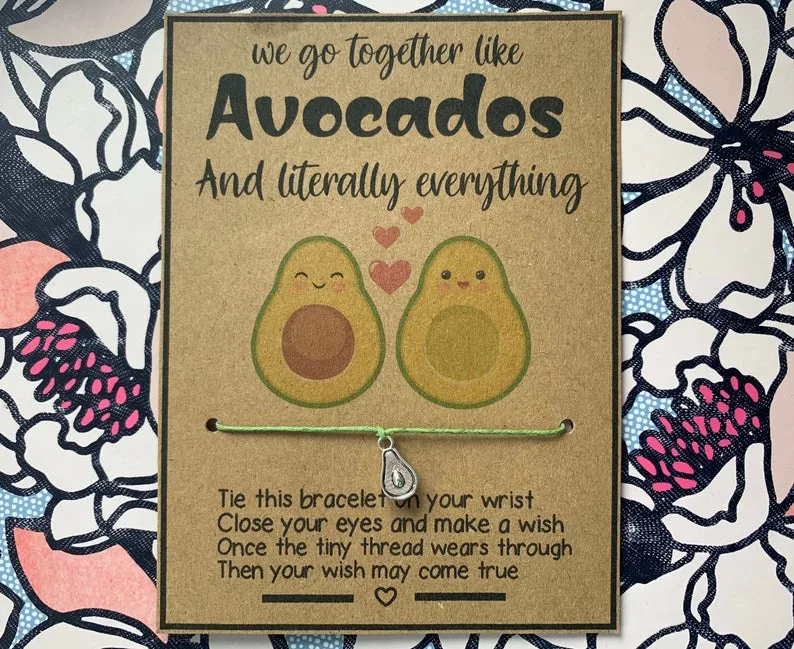 This product consists of a bracelet attached to a wish note.
For the note, you have 2 options: we go together and avocuddle. For the bracelet, you can make a choice from 20 colors. Some options include black, brown, green, blue, red, beige, and orange.
Going by the content of the note, this gift is suitable for friends and couples.
Stethoscope Charm
For a doctor, a nurse, or any health professional that uses a stethoscope, this avocado charm would be a thing of joy.
The charm is made from embroidered vinyl, and it comes with a snap button, so it can easily be attached. The seller is open to color requests. So, if the color on the product page does not satisfy you, they could work with your preference.
Dabbing Avocado Shirt
A real avocado will never dab. But on this shirt, you will find one. The Dabbing Avocado Shirt comes in 8 colors and over 20 sizes & modifications.
The shirt is made from cotton, plus it is comfortable and lightweight. Gender is not an issue with this shirt—you can get it for anyone.
Cute Avocado Enamel Pin Badge
You could also get your avocado-lover friend or relative this enamel pin. Having a smiling avocado-themed pin on a shirt is a fun way for the recipient to show how much they love avocados.
Avocado Print • Vintage Avocado Botanical Art
Last on our list is this avocado giclee print. This print was created from fade-resistant inks. So, it would be one long-lasting gift.
This product comes with an antique avocado illustration. Although antique, this print fits well on various types of walls. You can get it in 4 different sizes: 8×10, 9×12, 11×14, and 12×16 inches.